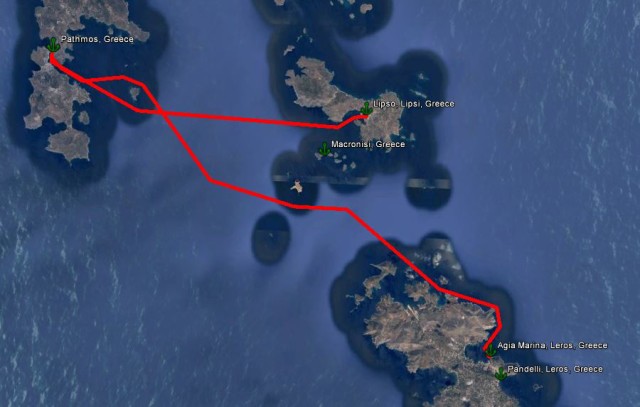 05/25/2017
Stratos for breakfast, 2 big pastries, tall glass of fresh orange juice: 6 Euro. Then we went back later for bread and she said its included with breakfast! So nice.
South winds today. Maybe destination Leros? Or Pathmos -> Leros? Or Levitha? We'll see what the wind tells us to do.
10:30 – Off the dock, no problems this time.
12:45 – Tahiti Tie, Pathmos. Huge schooner (brig) full of 200 Japanese! White and teak, 4 masts, 3 foresails.
We rented a scooter for 2 hours and saw St John's monastary. Amazing village around the fortress! A white and blue maze! St John dictated Revelations on Pathmos.
14:30 – Anchor up (after temporarily picking up another boat's anchor. Sorry!) then perfect 12 kt wind all the way to Alinda. Re raced a 40 footer coming up from behind who had the legs on us, but we stayed ahead into the harbor. (What do you call two boats on the water? …. a RACE!)
18:50 – Side tied to the fishing pier at Agia Marina, Leros after a failed attempt to Tahiti Tie at the bulkhead (too shallow). Our friend Nikolas the Greek from the restaurant helped us.
Dinner at Nic's again. Fried black snapper, roast beef cheek, lemon/oil mackerel. Nic kept giving us things to try.