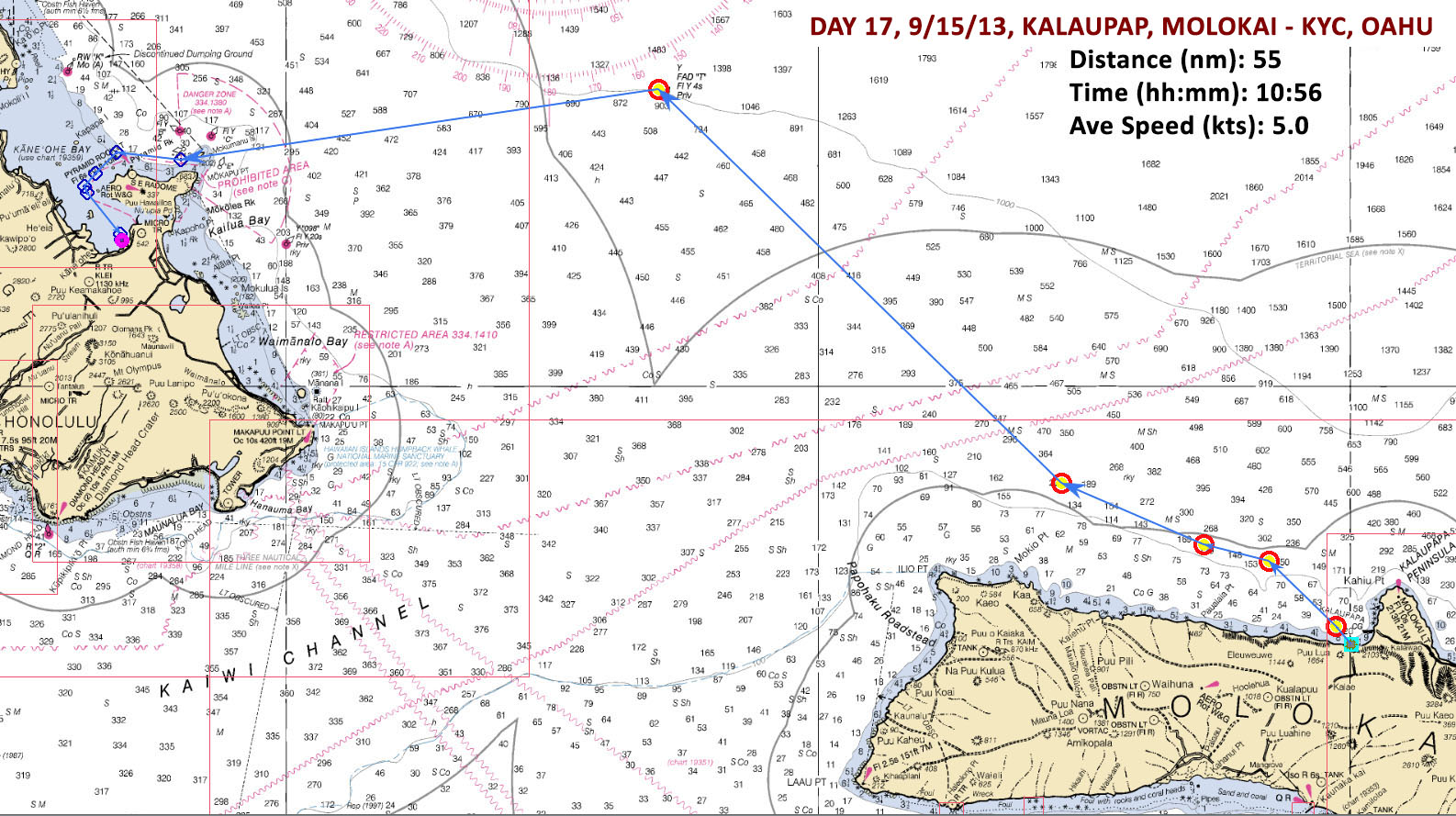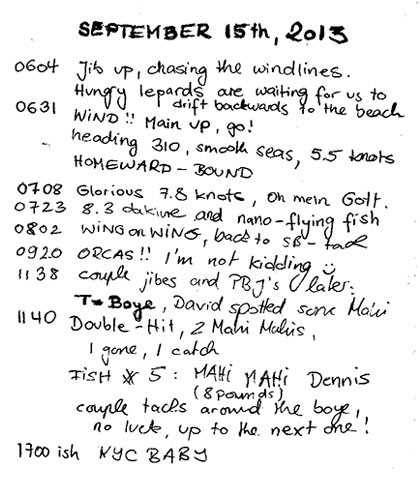 We pulled anchor at sunrise in zero wind, no sails and leisurely ate breakfast as the current sloooowly pulled us away from land. About a half hour later we put up a jib to try and catch a few cat's paws and eventually made it out to the elusive wind line. It took an hour to go a few hundred feet, but it would have been a shame to disturb the peace with the motor. Plus it was fun to maintain vigilance for any slight, advantageous puff. It was too light for the wind vane and instruments, so we had to rely on the feeling on our cheeks and the view of the ripples on the water.
Past the wind shadow we had enough wind to move well under full sail, heading downwind all day. This would have been perfect conditions for a spinnaker, if we only had that spinnaker pole! I seriously have to get one, but they're $2500 new and I can't seem to find a used one anywhere in the country. I'm looking for a heavy-duty, 4 in diameter, 17′ long pole with fittings that match my attach points. The fittings are UTS and UGPS. Hopefully something pops up.
Sometime mid-day, all of us were in the cockpit relaxing when Milo yelled out, "Whoah!" as he looked over the edge of the boat. A big eye was staring at him! It was an Orca! I thought Killer Whales never came to Hawaii, but here he was. Big white spot surrounding the eye, white jaw, definitely not the shape of a false killer. He dipped under and then we saw his buddy behind us. He swam up to our transom, ducked under and came back up in front of us. I was worried he would hit the keel, but I'm sure he had it under control :)
Later, just past mid-channel we made a run past one of the Fish Aggregation Devices (FAD), T-Buoy. As we came up on it David started pointing with his finger. "I see Mahi!" They were making ripples on the surface as they made a bee-line intercept to our lures. BAM!! Fish on!!! Then BOOM! Another one! We were dragging two Mahi, but as we pulled them in one was able to shake loose and we lost it. We made two more passes, but no luck. We could have eaten one and sold the other at the auction after land-fall. Ah well.
Well, after two weeks of sailing around the islands we finally made it back to familiar waters. We cut the corner inside Mokumanu, around Pyramid Rock and down the Sampan Channel to enter Kaneohe Bay. With an easy slip entry at 5 pm we did some basic cleanup and left the major cleaning for the next day. We had minimal problems the entire trip, caught five Mahi, had no drama between crew and all had a blast. What a perfect trip!