Here is a collection of tools I use to manage my boat.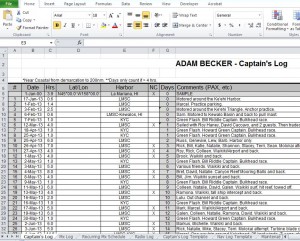 Master Log.xls

Captains log to keep track of sea time towards the captain's license.
Maintenance log of work completed.
Recurring maintenance schedule.
Radio log.
Templates of the electronic logs to be printed out. I keep these hard copies as an easier way to write notes as I work. I then copy the notes to the electronic log when I have time (and after I've cleaned all the oil, sweat and blood off of my body).

Provisioning.xlsx

A provisions log. Useful when it's important to track consumption on a long crossing.
Planning sheets:

Edible provisions.
Inedible provisions.
Medical provisions.
Non-expendables.
Personal gear (recommended for each crew member to bring).

And of course, Quicken for tracking financial expenditures.