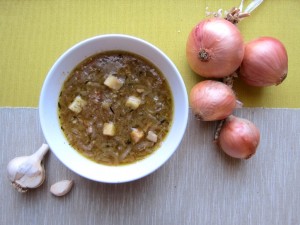 Ingredients for 2 people:

5 Onions
1 cube beef bouillon
1 stick butter (8 Tablespoons)
1 teaspoon Worcester sauce
Black pepper
1/2 cup dry white wine

Instructions from 1928:

Get the largest and finest onions available. … Peel them, for choice sitting a few points to windward of them on deck; or peel under water, or one can see to do only about three. Allow about two for each man. Cut them into quarters and put them into a large saucepan with a cover. For five men I should cut up 12 onions. Pour in enough cold water to make plenty of soup for all hands; add two full tablespoons of Bovril; about one-quarter pound of butter; a dessert spoonful of Lea and Perrins Worcester sauce; black pepper, with caution; and if there is any, a small wine glass full of sherry, or rather more white wine, when the cooking is nearly finished. It seems best not to add any salt in the cooking. Allow the mixture to boil gently, and stir occasionally until the onions have all fallen to pieces and are perfectly soft. The soup is then made. I venture to recommend the recipe because we have found this soup to be one of the very best and most wholesome forms of food which one can have at sea. It is easy to make at any time when cooking is possible at all, and everyone seems to like it.