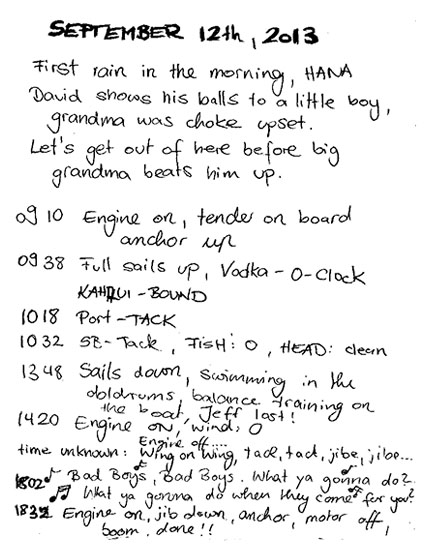 We woke up to a bit of rain but dinghied in to take advantage of the shower facilities on shore. Jeff, Nat, Milo and I were on the beach when David came running up in his shorts saying, "We have to go!" Turned out he left the shower with just his towel on, took a quick peek left and right and dropped the towel in the middle of the road to change. Bad timing because right after the towel dropped a granny and her grand son walked around the building and caught him. David caught a berating from the grandma about how her grand son shouldn't have to see David's junk, but he managed to leave her screaming behind him as he hopped and skipped into his swim trunks and met us. We grabbed the dinghy and went back to the boat.
We had light winds all along the north shore of Maui and at one point the wind completely stopped. We had a few races around the boat with the rule: No using your hands! We had to rely upon our salty sea-legs to run from the cockpit, around the mast, and back to the cockpit without touching anything but the boat's deck under our feet. All made it but the lubberly landsman, Jeff. Give it a few more weeks, buddy :)
We finally slatted our way downwind to Kahului after sunset (what's new…), followed our Sailing Directions and Cruising Hawaii books' instructions to call the Harbor Master an hour out, then anchored in the harbor just outside the turning basin in shallow 15 feet of depth. Another 10 hour day, smooth water with no rocking, slept like a baby!