Here's a description and schematic of Siren's bilge.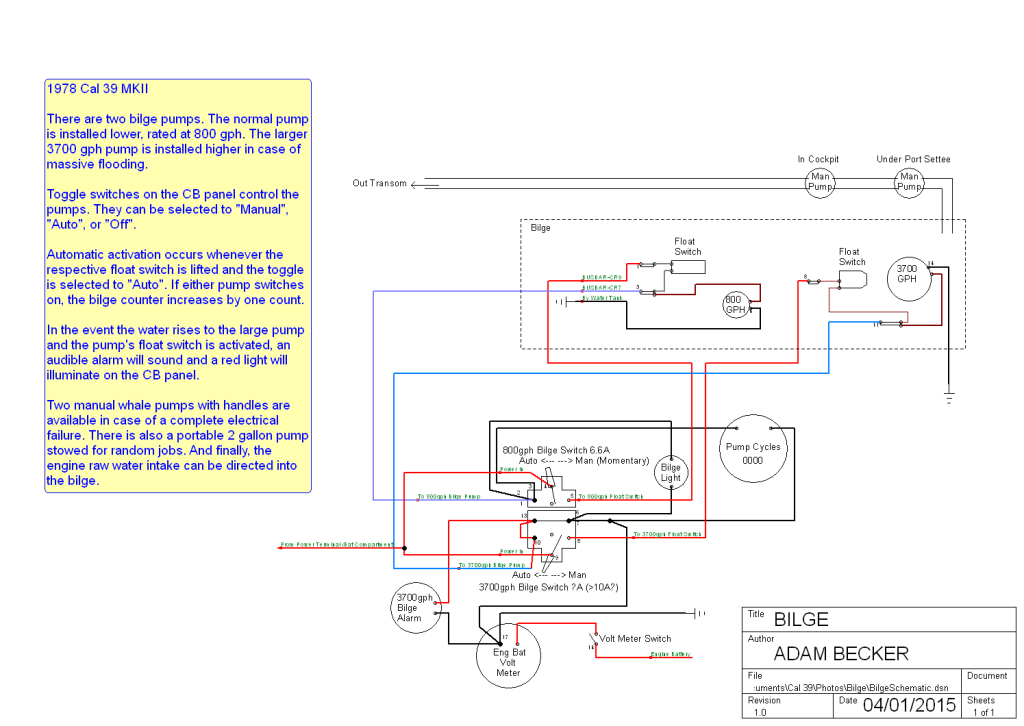 And here is the pdf for download if desired: BilgeSchematic
System Description:

Siren's bilge contains two bilge pumps. The normal pump is installed at the lowest point of the hull, rated at 800 gph. The larger 3700 gph pump is installed a few inches higher in case of massive flooding.
Toggle switches on the CB panel control the pumps. They can be selected to "Manual", "Auto", or "Off".
Automatic activation occurs whenever the respective float switch is lifted and the toggle is selected to "Auto". If either pump switches on, the bilge counter increases by one count.

The counter is very useful for detecting small leaks. One day I notice the counter read "1." I reset. The next day showed another "1." So one cycle per day means a slow leak. I found it at the stuffing box and readjusted it (it needed a small amount of tightening.) See Stuffing Box for more info.

In the event the water rises to the large pump and the pump's float switch is activated, an audible alarm will sound and a red light will illuminate on the CB panel.
The old (unknown brand) float switch for the 800 gph pump failed when a small crack allowed water to corrode the steel ball inside the float switch. The new Rule float switch has been going strong since replacement in May 2013. (2 years and counting.)
The Atwood float switch for the 3700 gph pump was added in July 2014 when the old switch failed and is still going strong as of April 2015. (9 months and counting.)
Two manual whale pumps with handles are available in case of a complete electrical failure. There is also a portable 2 gallon pump stowed for random jobs. And finally, the engine raw water intake can be directed into the bilge.