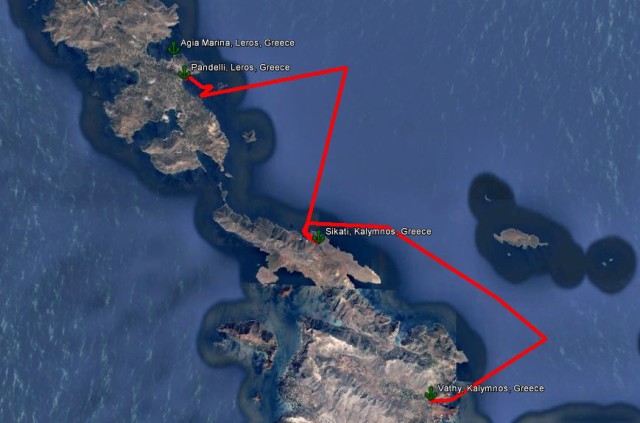 05/22/2017
Rainy, no wind, no people in the morning. Halumi cheese, fried with amazing cucumber in Greek Salad on the boat.
08:15 – Shoved off for Leros/Lipsi. Thunder and lightening to the south, light wind.
08:45 – Wind is up! Let's sail. (Autopilot keeping us 43° off the wind.)
12:30 – Stopped off at Sikati on Kalymnos. Dirty Beach and goats. Dingy out, let's check out that big cave we passed on the way in.
Big cave, but we couldn't enter it. How did those goats get all the way down that steep cliff to the bottom? So much sage everywhere! The air was full of it.
First pfuut! 14:30
14:40 – Sailed out of the bay.
16:30 – Anchored in Vromolithos (Pandelli), Leros after fighting our way back upwind in 25 knots, gusts out of no where, double reef and a scrap of a jib. No room to Tahiti tie, unfortunately.
Octopus in wine sauce (meh), seafood risotto (yum!) and Moussaka. Our waitress Rosa lost her job in Athens and is helping her family's restaurant. Cute dog followed us everywhere on our walk towards the castle.