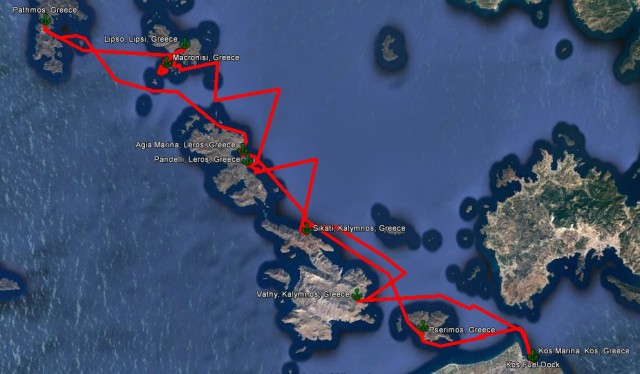 The Crew: Adam and Yayoi
Honeymoon!!! We rented a bare boat charter to sail the Dodecanese Islands in the Aegean Sea for a week. Wow. All I can say is I wish we rented for TWO weeks.
Here's our full, rough-edit of our trip. Make it full screen and select "HD 1080p" for best quality if your internet speed can handle it.

At the time of this trip, Greece tightened its requirements regarding the skipper's documentation. In the past few years, a simple resume of your time on the water would suffice to allow renting of a boat without a licensed skipper, but those days have passed. So I finally got my OUPV "Six-Pack" Captain's License (See Get Your Captain's License), brought the credentials with me and took the boat out with no one to bug me and my new wife Yayoi on our honeymoon.
First step, find a yacht charter company.
We chose Istion Yachts after communicating with this amazing individual, Diederik Willemsen. Check out his website at http://www.sailingissues.com. He emailed us a long list of companies including descriptions of his personal experience. Thank you so much!
But yeah, Istion was priced well at $1800 for a week in May for a 2 year old Beneteau Oceanis 35 in perfect condition and very friendly, helpful people going above and beyond normal duty (i.e. Shooting the breeze about favorite ports over glasses of Ouzo).
Getting there.
We flew into Bodrum, Turkey (US Citizens require a Visa. https://www.evisa.gov.tr/en/, fill it out, pay $35, print it, done.) spent the night, then hopped a ferry to the island of Kos, Greece (http://www.directferries.com). Don't forget to print out proof of continuing travel if you don't have round trip tickets. Immigration will stop you if you don't show them a receipt or itinerary proving you have transportation back out of the country.
Planning the Itinerary.
After finding a charter company, they will have suggested itineraries. Or just Google it. Also, noonsite is a great reference for sailing in any waters of the world. We roughly plotted three routes that would get us back within 7 days (north from Kos, south, and west) then waited until we arrived to choose, depending on the wind. We ended up hopping our way north, up the Dodecanese chain. 5 hour sails between each island.
Time of year.
Summer is tourist season. Europeans tend to flood Greece in July, August, September. All the prices double. Restaurants, ferries, and yes, yacht charter prices. So we chose the week before official tourist season for two main reasons. Cost of course, and lack of crowds. Every island we visited had free slips and empty roads! The three biggest problems with going on the off-season was 1) The water was a little chilly. We used 2mm wetsuit tops and could snorkel for about a half an hour before shivering. The water warms up a lot later in the summer. And 2) The ferry routes were slightly more limited. As crowds increase, so do the ferry schedules. We could still get where we wanted to go, but once we had to take an expensive speedy ferry for 60 Euro and another time we had to hop between 4 islands to get from Kos to Santorini, a 14 hour trip! And finally 3) No Meltemi! The Meltemi winds blow in a consistent, moderate manner from the northwest, perfect for sailing. You'll probably need to reef down, but the speeds and low diesel usage will be worth it. At the end of May, the winds were fickle and from un-forecast directions. However, they were plenty useful in getting the boat where we wanted to go, when we wanted to get there. And we only used less than 3 gallons of diesel to do it. All told, I would definitely choose to go at the end of May again next time!
The sailing.
All my experience has been sailing around the islands of Hawaii. So when the Istion guys briefed us to expect big, steep waves running against the wind in the next few days, I thought, "Awww, that sucks." I hate beating into the wind, the bow diving under and getting knocked off course every 10 seconds, barely making way. Well, Greece's definition of big and steep is waaaay different than Hawaii's. It was like sailing in a lagoon! Even on one day with our sails fully reefed as far as they would go in gusty 30 knots, at least the water let us continue making way. Big n steep, pfffff. Smooth water the entire week!
Alright, enough generalities. Click the "Next" button for the daily specifics and photos.