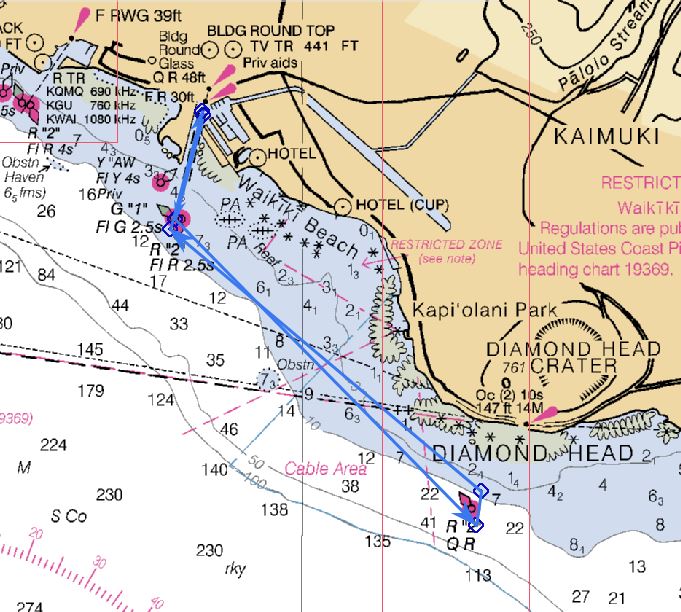 15 Crew: Adam, Matt, Galen, Audra, Erika, Vicky, Tim, Natalie, Tyler, Devin, Erik, Whitney, Tom, 2 Canadians.
Well, we did it! We tried putting up the spinnaker again. We set everything up at the dock, assigned crew positions and prepared for the downwinder from the Diamond Head mark back to the channel. And it worked!!! We gave the DH mark a wide berth to give us room for mistakes, made the turn, then spent a few minutes yelling commands until the spinnaker was finally made and drawing. As we practice, I hope to get it up with minimal commands, smooth coordination, and SPEED! With Natalie trimming the sheet and Matt carefully trimming the guy ("Do NOT let it go or the pole will bring the mast down!") we ran down Awesome Possum. Now… How do we get the thing down?
In previous practice sessions, we would deploy the jib to block the wind, let the spinnaker sheet go and pull the sail down under the jib. However, in a strong wind we've had trouble keeping the wind out of the spinnaker and it would take up to three guys to wrestle it down onto the foredeck. It's dangerous, it takes a lot of crew, and it's slow. So Wade had an idea he mentioned while setting up at the dock. Just have someone reach up to the end of the pole and trigger the guy's release. This would IMMEDIATELY release all power from the sail as the tack flies downwind and only two crew are required to take down the spinnaker.
We set up early, well before the turn into the channel so we wouldn't risk over-running the turn in if anything went wrong. Audra and I got the jib out, Wade ready on foredeck, Terran ready at the halyard, aaaaaand….. GO! Wade released the tack, Terran slacked the halyard and the guys packed the bag. Easy! Fast! Flawless, in fact! We could have run the spinnaker for another 5 minutes! In any case, it was good practice, we stayed ahead of Awesome Possum, and crossed the finish line without disqualifying (bonus!)