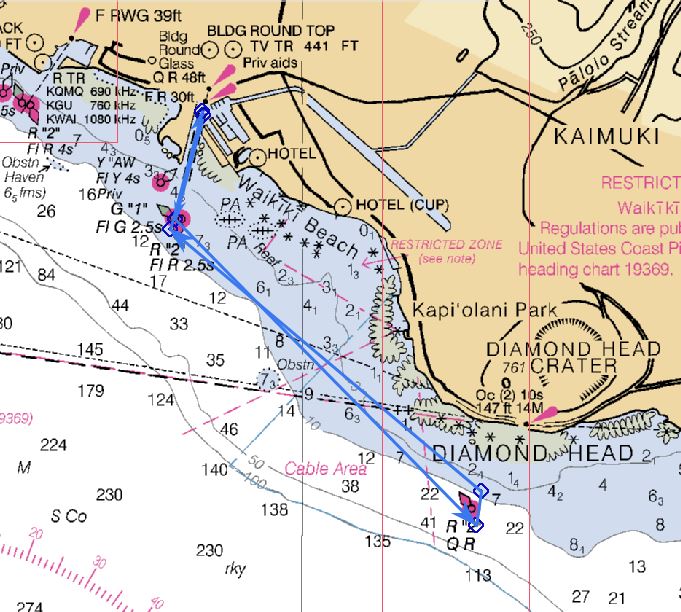 16 Crew: Yayoi, David, Natalie, Tom, Terran, Eric, Alex, Carol, Tim, Vicky, Natalie, Susan, Stacey, Chris, Sean.
4th Place in non-spinnaker class! Everything added up to make this our best race to date. Strong wind, experienced crew, good start! We blew through the start line 5 seconds before the whistle with enough momentum and wind to cruise right out the channel, left turn to Diamond Head and nobody passing us. We were just creaming along when someone yelled out that we lost something overboard. Siren's type IV throwable device was floating away behind us with the strobe light attached. Well, I'm not going back for it! Mark the location and hope we see it on the way back. On with the race! There were a few small boats ahead, but we caught them before the DH mark, made a smooth tack around for the return and made no mistakes. We were first place all the way from the DH mark to the channel, then the race boats started passing us. Each tack we lost speed while they hardly slowed. 6 boats passed us tacking up the channel putting us in 7th overall. Room for improvement still, but Go Siren!
Back at the club enjoying our beers, a policeman came up and asked if we were Siren. Why, yes we are, why do you ask? A report came in that a boat may be in trouble. Someone had called in that they had found a life-ring with Siren's name on it 1 mile outside Diamond Head and called the Coast Guard! The policeman gave me a number to call immediately because the Coast Guard was preparing a search and rescue mission as we spoke. The person on the other end of the line was saying they were currently briefing the mission and were just about to launch! If I had waited at all, I would have had to pay $1500 per hour for an un-needed rescue. (Don't worry, actually rescues are free of charge.) It's a good thing we decided to gloat at the club, because that's the only place the policeman thought to look for us! Whew!