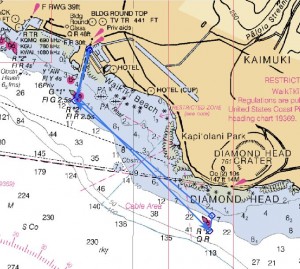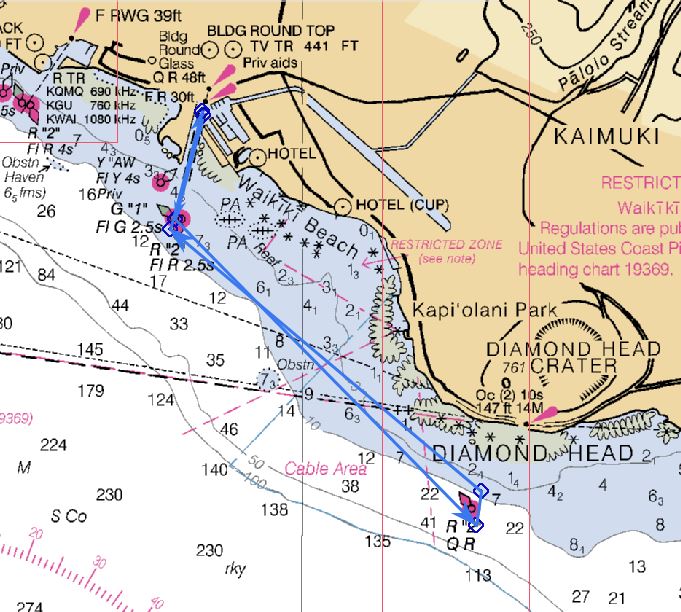 So the plan was to solo to the Ala Wai Harbor, pick up crew like normal, then race. Unfortunately, no one showed up! Franklin was the only one to call in saying he was stuck in traffic. Solo it is!
I decided to forego the spinnaker, it's just way too much work for such a short downwind leg. I caught the start a bit better than normal and pushed through the start line just under a minute after the bell. The wind was clocked around a bit for a beam reach departure so I actually got to sail WITH boats this time! Usually everyone has their spinnaker up and are racing past me on the first leg.
Turning the corner at the first mark went well, hardening up to the wind keeping good speed with full sail and over-heeling once in a while but no need to down traveler. I would just let 'er heel, water flowing over the gunnels until the gust would pass. If I had more crew we could work it better, but it was too much work for just me.
The second mark at Diamond Head buoy was a disaster. I was ahead of over ten boats before the tack, but tacking in 20+ knots of wind shakes the lazy jib sheet enough to cause trouble. If I had one more crew to pull in the slack as I released the working sheet there would be no problem, but the lazy sheet shook around enough to catch on a cleat at the base of the mast. The wind fill the jib in the turn but with the sheet caught it couldn't come all the way over. I was unable to overcome the down helm force and ended up looking straight down the nose of 10 boats coming straight at me. I steered downwind and zig-zagged my way through, remaining clear of them all until I had time to gybe around and unhook the jib sheet at the mast. I ran back, cleaned up and hardened up until I regained my position to tack, this time tacked successfully and rounded the buoy. FINALLY! Ugh, I lost so much time.
The last leg was a beam reach with the wind slightly aft and I was able to pass a couple boats. Siren and two others duked it out up the channel, maybe 5 tacks, sometimes ducking, sometimes holding depending on the right-of-way, but Siren held strong and crossed the line first out of those three. Felt good!
So third race for Siren complete, first official solo race, beat three boats. Fun!