Last update: 01/26/2017
Course flags, race instructions, tutorials, sail trims videos… Anything important for race crew to know is found here.
Good Tacks Start with the Release
This is a good article on fast tacking. Siren loses tons of time (and finish places) going up the Ala Wai Channel at the end of every Friday Night Race. This is mainly due to slow releases, tangles, and mistakes. I highly recommend my jib crews read this article and practice perfect.
Siren Quiz #1: 22 questions on basic terminology, points of sail and basic maneuvers.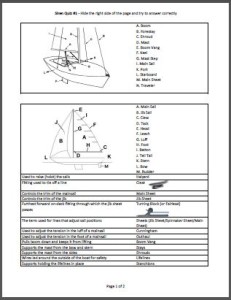 Spinnaker Tutorial: Vocabulary, commands, steps to set-up, raise and douse the spinnaker, etc.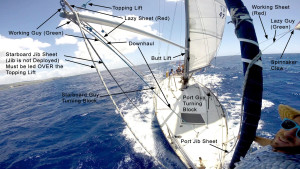 Spinnaker Mistakes: A list of mistakes made by Siren.
Ala Wai Race Info: Course maps, flag designators, official race instructions, etc.
Spinnaker Flying by North Sails

Trim for Speed by North Sails

RRS – Racing Rules of Sailing
Published by the International Sailing Federation.
Knowing the rules is the only way to take advantage of a right-of-way situation while racing. It's also safer being able to predict what actions the other skippers will take while on a collision course. These links below should make learning the rules easy.
RacingRules2013-2016: The Racing Rules of Sailing (RRS2013-2016) directly from the source, ISAF.
Play the Rules: A flash game perfect for practicing and testing your Racing Rules of Sailing.
Rules Tutorial Part 1.pdf and Rules Tutorial Part 2.pdf: These tutorials dissect and expand upon the RRS with examples. Watch out, though. It's from a model racing club and there are a few differences such as using a 4 boat-length zone instead of ISAF's 3 boat-length zone.